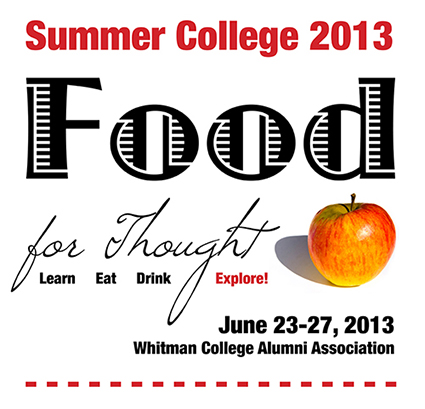 Join alumni, parents and friends for Summer College on the Whitman College campus. Summer College includes intellectually challenging classes, lively discussions and entertaining experiences exploring the topic of food. Summer College draws upon Whitman's Global Studies Initiative and the recent symposium titled "Food in Global Perspectives." Share today's Whitman experience with fascinating programs, lectures and discussions as we take a look at Food for Thought.
The session begins Sunday evening, June 23, at 7 p.m. for the opening reception followed by morning and afternoon sessions ending with lunch on Thursday, June 27. Optional afternoon activities and dinners round out the program.
Questions? Email gwinnrl@whitman.edu or call (509) 527-5167 or (800) 835-9448 ext. 1

Summer College registration is now closed. If you have questions please contact the Alumni Office at (509) 527-5167 or (800) 835-9448 ext. 1. Thank you.
To view the list of those registered, click here.
Note that the Fifty-Plus Reunion will be on campus Friday, June 21, to Sunday, June 23.